Cement for highest
loads and structures subject to stress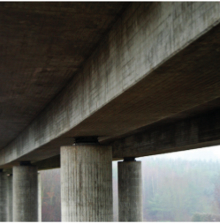 Quality
The quality of cements is supervised
by the TSÚS (Building
Testing and Research
Institute), Bratislava.
CEMMAC is a holder of an
ISO 9001: 2008 quality
management certificate
and an ISO 14001: 2004 environmental
management certificate.
CEM I 42,5 R
Portland cement
High-strength pure Portland cement for concretes requiring the highest strengths and a fast form removal or load of the structure, also suitable for concreting in cool weather.

Characteristics
CEM I 42,5 R is characterized by a rapid increase in strengths, attaining high early and final strengths (after 2 days in the range of 29 to 36 MPa, after 28 days from 57 to 62 MPa). During hardening, this manifests itself by a high development of heat of hydration.

Use
concretes of high strength classes and concretes where fast demolding is required
demanding structures made of reinforced concrete and plain concrete (bridge structures, pillars, etc.)
production of prefabricated elements and ready-mixed plasters
concrete pavements and concrete surfaces subject to high stress
industrial floors
all kinds of industrial and civil structures

Advantages
the rapid increase in early strengths enables a

quick demolding of products
quick walk-on-ability of concrete surfaces
quick load of the concretes produced

high early and final compressive strengths
good workability, colour fastness and low volume changes
the high development of heat of hydration enables concreting even in cool weather
Essential properties
Harmonized
Standard EN 197-1
CEMMAC
CEM I 42,5 R
2-day compressive strength (MPa)
=> 20
29 – 36
28-day compressive strength (MPa)
=> 42,5 =< 62,5
57 – 62
Initial setting time (min)
=> 60
210 +- 30
Volume stability Le-Chatelier (mm)
=< 10
0,0 – 1,3
SO3 sulphate content (%)
=< 4
3,2 +- 0,2
Chloride content (%)
=< 0,1
0,03 – 0,02
The content of tricalcium aluminate in this cement is less than 5%.

Increase in strengths CEM I 42,5 R